POWER AND DATA MANAGEMENT
Our 40-foot IT structures offered in 1,200 and 1,500 kW capacities are field-tested and proven to operate efficiently, regardless of environmental conditions.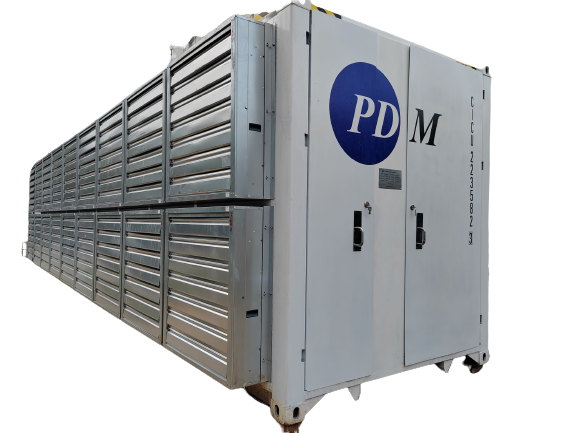 Our modular data centers can support high-performance compute applications in remote locations at the Edge, or in parking lots located in metropolitan areas.
Our low cost, turn-key solutions can be expedited in 8 weeks and are quick to deploy.
Up to 1,500 kW of power processed with enhanced functionality and at reduced costs.
Offsite automation, monitoring, and management reduces on-site personnel and  increases reliability.
Three Phase Oil-Filled Padmount Transformers
Enclosure Length x Width x Height
12192mm x 2438mm x 2896mm
Number of Installed Servers
432 servers with up to 4.0kW power consumption
3 phase power connection to inside access 4 Main Breakers
3 Hot wires, 1 Neutral, 1 Ground, each phase Volts: AC 240V
Distribution Panel and Breakers
Electric cabinet: 4 x800A Molded Case Main Breakers (Noark, ABB or similar) 8 x 400A Molded Case
Breakers (Noark, ABB or similar) 22 x 20 ports PDUs. (UL Rated)
Power Distribution & Cabling
All wiring, racks, cables, lights, outlets Power Distribution Units Distribution Breakers (Noark, ABB or similar)
Main Panel Breakers (Noark, ABB or similar) C19 power cord from PDU to server Y-pigtail can be ordered separately
Air Economizer with Evaporative cooling, 3 Panels per Container
Industrial grade Exhaust Fans
18 Fans with automated louvers, 550W per fan
Airflow (Cubic-Feet-per-Minute)
353,147 CFM (600,000 Cubic Meter/Hour)
Air filtering system, Air flow sensor, Temperature sensor
Additional Technical Details
Facilities management and monitoring system
Included - Controller based with MODBUS, TCP-IP
Key locks standard to dual entry/egress security doors
UL 489, Compliant to IEC 60950 and international wiring regulations
External Environmental Limits
0 to 90% RH (below Condensation point)
We are honored to be the trust partner for so many clients.
PDM provided extremely high technical knowledge, experience, professionalism, and patience in working with us to provide our custom modular DATA center container. Their strong network of suppliers where able to construct and deliver, with high quality. 
Stephen Beneducci
Founder & VP of Operations
The containers and transformers supplied arrived on time and were easy to set up. I especially appreciated the hard-bus bridge that connected the transformer to the data center, as it was easier and took less time than hard-wiring!
Kevin Stanley
General Manager
We needed two products expedited for a special situation requiring extra quick fulfillment. PDM came through and delivered in under one month versus others who were quoting three months.
Ken Worton
General Manager
Ready to get your Padmount Transformer quote? Fill out the form below and our team will be in touch within 24 hours.